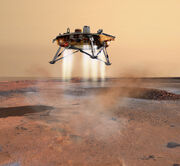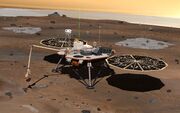 This article is about the first rover that landed on Mars!
Mars Wikipedia
Edit
Mars is the fourth planet from the Sun and the second smallest planet in the Solar System. Named after the Roman god of war, it is often described as the "Red Planet", as the iron oxide prevalent on its surface gives it a reddish appearance.[14] Mars is a terrestrial planet with a thin atmosphere, having surface features reminiscent both of the impact craters of the Moon and the volcanoes, valleys, deserts, and polar ice caps of Earth. The rotational period and seasonal cycles of Mars are likewise similar to those of Earth, as is the tilt that produces the seasons."  - Wikipedia (all came from wikipedia)
Rover Wikipedia
Edit
"Rovers have several advantages over stationary landers: they examine more territory, they can be directed to interesting features, they can place themselves in sunny positions to weather winter months and they can advance the knowledge of how to perform very remote robotic vehicle control.
There have been four successful robotically operated Mars rovers. The Jet Propulsion Laboratory managed the Mars Pathfinder mission and its now inactive Sojourner rover. It currently manages the Mars Exploration Rover mission's active Opportunity rover and inactive Spirit, and, as part of the Mars Science Laboratory mission the Curiosity rover." - Wikipedia 
(all came from Wikipedia)